Diesel Specialists of Green Bay Inc. is equipped with the facility, factory tooling, and expertise to repair or completely overhaul all makes of diesel engines. Our experienced certified technicians utilize the latest in factory scanning tools to access the information and service functions that help them accurately diagnosis and successfully repair or rebuild a diesel engine.
In our state-of-the-art service bays we have the ability to work on anything diesel, from a piece of large equipment to pickup trucks.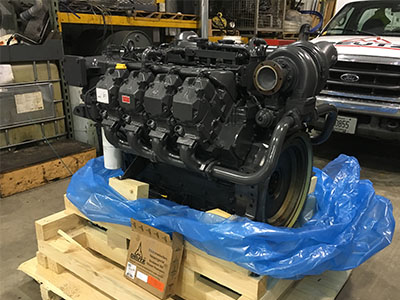 We service and supply parts for all makes and models of diesel engines, and we take pride in being named an authorized dealer for these top diesel engine manufacturers:
• Deutz
• Isuzu Diesel
• Hatz Diesel
• Mitsubishi Engine
• Kubota Engine America
• Yanmar
• Cummins
• Scania
• Perkins
• Kohlar KDI
The service bays in our service center are designed to handle the largest pieces of equipment or vehicles, and our overhead cranes help to speed up major repairs. When it's cost-prohibitive, inconvenient, or simply impossible to bring your diesel truck or diesel engine to us, we will come to you. Our field service technicians specialize in the diagnosis and repair of all makes and models of diesel engines. We'll get you up and running again as quickly as possible.
We are fully committed to customer satisfaction, demonstrated by our exceptional workmanship and use of high quality OEM parts in rebuilds and repairs. We carry a full range of OEM products.
With over 60 years serving Wisconsin and Upper Peninsula of Michigan, Diesel Specialists has built a reputation as one of the premier diesel engine repair centers in Wisconsin. You can count on us for quality of work at a competitive price.
If you need diagnostics, repairs or a complete rebuild, contact us today at 920-347-0880 or 1-800-242-8060 or visit our facility at 2264 Mid Valley Drive in De Pere, WI 54115, during our business hours of 7:30 a.m. to 5 p.m. Monday-Friday.