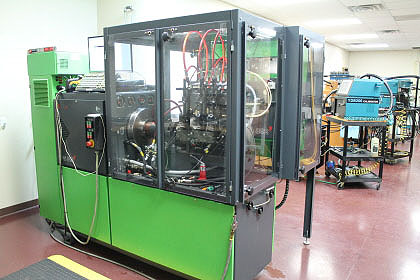 Diesel Specialists of Green Bay is a full-service diesel fuel injection repair service serving Northeast Wisconsin and the Upper Peninsula of Michigan. We are your one-stop diesel shop. Our certified trained technicians have the factory tooling and OEM technology to do the job right the first time.
Pumps – Rebuilt & Repaired
We rebuild and repair all makes and models of the traditional mechanical controlled pumps including Bosch, Stanadyne, Rosamaster, CAV, Delphi, Simms, CAT, and Cummins. We also service most makes and models of electronic controlled pumps. Bosch, Delphi, Denso, and Zexel pumps are just some of the more popular brand names we service. Whether you need partial repairs or complete rebuilds, we will be happy to provide top quality workmanship at a competitive price.
Fuel Injection – Mechanical
Since 1958, Diesel Specialists of Green Bay has been a leader in rebuilding all types of diesel fuel injectors. After disassembling and a thorough cleaning and inspection, we will replace the worn and faulty parts. Being authorized by the fuel injection manufacturers, we test and set all diesel fuel injectors to the manufacturer's specifications. When we're done rebuilding and testing the diesel fuel injectors, they are like brand new once again.
We learned very early that the nozzle is where 99% of the failure happens. Rebuilding the fuel injector with an OEM nozzle is important in order to lengthen life of the injector. Most of the cost of rebuilding the injectors is in the cost of the new nozzle. We offer new Stanadyne pencil nozzle assemblies because of the superior nozzle design. That's why it's important to rely on the experts at Diesel Specialists of Green Bay for your fuel injection service and repair.
Contact Us Today
For all of your diesel fuel injection needs, contact us at 920-347-0880 or 1-800-242-8060 or visit our facility at 2264 Mid Valley Drive in De Pere, WI 54115 during our business hours of 7:30 a.m. to 5 p.m. Monday-Friday.