At Diesel Specialists of Green Bay, our state-of-the art facility is fully equipped with the factory tooling, OEM technology, and equipment to service your diesel needs and diesel repair. We use OEM scan tools to help us diagnose problems and repair them correctly.
Our technicians have the training and experience to fix and maintain diesel engines built years ago or with today's newest technology. Backed by 10 different engine manufacturers, we have the engine OEM specific software for diagnosis and diesel repair.
We service a wide variety of construction equipment, generators, pickup trucks, dump trucks, semi tractors, golf course equipment, farm tractors, trenchers, and more. We take pride in our work and our commitment to customer satisfaction.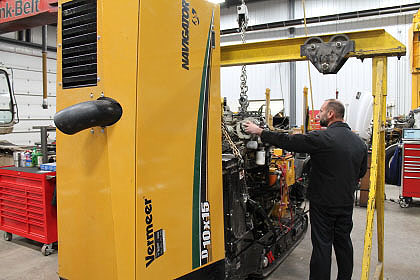 Service Bays
Save the money on a service call by bringing your equipment to us. Our service bays are designed to safely accommodate even the largest heavy-duty equipment. We can move just about any piece of equipment indoors for diesel repair and maintenance. Our facility allows us to work efficiently and quickly on diesel repair, saving you money.
Our service area is equipped with:
• 7 tons of overhead cranes (2 ton jib, 3 ton overhead bridge, 2 ton jib)
• 18,000-pound truck lift
• 16 x 16-foot door opening
• 24-foot high ceilings
• 80-foot deep stalls
• Security cameras and a locked and gated yard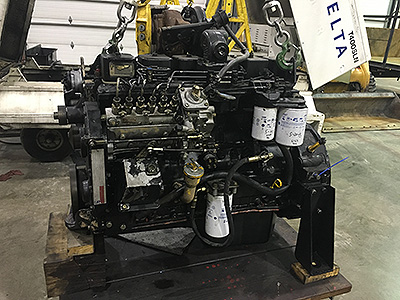 Field Service
When it's too costly, inconvenient, or impractical to bring your heavy equipment or diesel truck to us, we'll be happy to come to you. We will diagnose, repair or rebuild your diesel equipment, on site. With our service trucks, we are also able to remove and replace engines on site. We will get you up and running again. With the onset of the electronic controlled engine, having the right laptop or scan tool and factory training to aid in the diagnosis of a problem might be all you need.
Our staff of skilled technicians is always willing to help you with diesel repair in our shop, out in yours, or out in the field. In short, if you are having problems with your diesel, we are just a phone call away, 920-347-0880 or 1-800-242-8060.